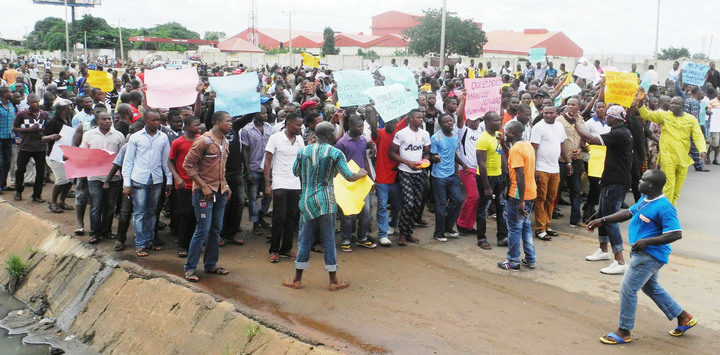 Trader in Onitsha, Anambra State brought Commercial activities to a halt on Saturday following reports that the Federal Government intend to transfer some boko haram detainees to the state.
Trader in cities of Onitsha ,Akwa ,Nnewi,
Ekwulobia and Agulu, shot down their shops to kick against the plans,Enugu- Onitsha Express way were reportedly blocked by traders and residents chanting war songs suggesting they would return to their Biafra ideology if push to the wall.
Placards bearing inscriptions like 'Buhari should not destroy the peace in Anambra State,' 'Biafra kanyi choro' (We want Biafra), 'Buhari, Igbos cannot accept your prisoners, 'We do not want Boko Haram in Anambra,' 'Federal Government, why extend Boko Haram to Anambra?' and 'Boko Haram prisoners are not allowed here.' were carried by protesters.
The Secretary-General, Anambra State Amalgamated Traders Association, Chief Chuma Elucharu, told newsmen that traders in the state decided to shut markets to protest the rumoured relocation of Boko Haram detainees to the state.
While addressing the traders, the President-General of AMATAAS, Chief Okwudili Ezenwankwo, urged them to be calm, saying that further consultation would be made by the association to get clear picture of the situation.
Also, the Police Public Relations Officer in the state, Mr. Uche Eze, said there was no need to panic, nothing that the police were handling the situation.
However, the Nigeria Prisons Service has said there is no plan to transfer Boko Haram suspects in custody to prisons in Anambra State as being speculated.
The NPS PRO Francis Enebore, said most of the terror suspects in prison custody were still awaiting trial and cannot be moved out of the jurisdiction of the court where they would be prosecuted.
"Most of the terror suspects are awaiting trial and so, there is no way they can be moved to another state because they must be tried in the state where they committed the crime.
"Apart from this, our duty is to move them from prison to court for trial and since they have not been convicted, how can we transfer them to other states outside the jurisdiction of the court where they would be tried? People are just saying things they know nothing about, there is no truth to the rumours that we are transferring terror suspects to other states".Enebore Said