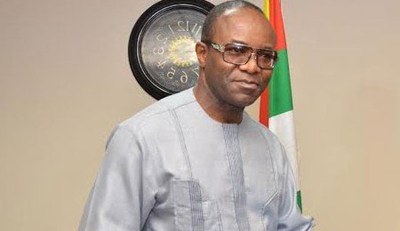 Petroleum product remain scarce as queue remains in all part of the country despite Government daily importation and supply,owing to diverting of product by dealers.
Minister of State (Petroleum) Dr. Ibe Kachikwu told a town hall meeting in Lagos that 30 per cent of the fuel supplied is diverted to neighbouring countries.
Listening were Nigerians from all walks of life and some ministers. Kachikwu said: "I have had countless sleepless nights. I work round the clock to solve this problem because whatever touches you touches me. Over 30 per cent of fuel is diverted to Chad and Cameroon. But I continue to oversupply and you see some people making money out of the agony of Nigerians."
Apologizing
for the lingering fuel crisis, the minister said:
"What we met on the ground when we came was complete lack of transparency but we have worked to put everything in order. The loss of N300 billion by the Nigerian National Petroleum Corporation (NNPC) has been reduced to N3billion, subsidy payment has been reduced to near zero. We are focusing on business, not bleeding the government."
"We are working on ideas to solve the problems. I worry about a lot of things, about the trucks. What we want to do now is to make sure that we select only truckers who can install trackers on their trucks; we are looking at intelligent solutions. Don't judge us by the supply of fuel; we are working hard at all the issues and believe me I have energy to throw at everything."
The minister explained that the NNPC loads 1,400 tankers for Lagos alone.
The Federal Government said it was working hard to address the problems facing the country. "We hear you, we care about you," the officials said
Ministers at the Town Hall meeting organised by the Federal Ministry of Information, Culture and Tourism, are: Alhaji Lai Mohammed (Information, Culture and Tourism), Babatunde Raji Fashola (Power, Works and Housing), Kachukwu (Petroleum), Geoffrey Onyema (Foreign Affairs), Okechukwu Enelamah (Industry, Trade and Investment) and Rotimi Amaechi (Transport).